Sometimes I feel like this GIF pretty much sums up what my job as a Tech Recruiter consists of – saying "no" and breaking hearts. On a more serious note, I need about 146 CVs to fill a single vacancy, and I have about 10 vacancies for the Security Department to fill per quarter. That's 145 applicants I have to reject per role…I'll let you do the math.
There are many things I love about my job – hearing what drives my candidates, what they want to accomplish in their career, and helping them make life-changing decisions that will impact them and their families. On the other hand, I am also standing in the way of all the applications coming in.
If you are interested in a position in Security, Risk and Fraud, I'd like to set you up for success and help you pass the application stage by providing some tips to let your CV stand out from the crowd. Here are my top five:
1. B. Kind (to my eyes)
Make sure your CV is legible and clear. Please do not use a font size below 12 points.
2. B. Specific
I know you want to list all the technologies you've used, including the HTML course you took in college. However, I need you to be specific.
Wrong:
"Cyber Security Engineer at ComBooking February 2012 – current
information Security Audit, Physical Security Audit, BCP, Disaster recovery, Building & Data Center Audit and Assessment, Security investigation, Penetration testing, patch management, threat and vulnerability management, SOC, SIEM, web application firewall, Cyber forensics, data center infrastructure design and management, Information Security Policy"
Right:
"Cyber Security Engineer at Booking.com (May 2, 2014 – September 16, 2017)
– Incorporated automated security testing with Jenkins

– Deployed and hardened Linux servers (Redhat, Debian)
– Implemented and configured firewalls (Juniper, Checkpoint)"
Provide your last 3 positions, with a maximum of 5 bullet points each. Skip long descriptions for the rest but keep the positions you had if they're relevant.
3. B. Wise
On our job portal you can apply with your LinkedIn profile in a single click. However, many candidates forget that their profiles are blank, or contain too little information. Regularly update your LinkedIn profile and feel free to share any additional projects you've conducted (scripts, vulnerability analysis, etc.).
4. B. Patient
Our business is constantly evolving, so some teams are more mature than others. In fact, most teams are new! You may be excellent in your domain but we might not be ready to welcome you…yet. Analyze our job ads thoroughly and only apply to the ones that you think are a fit and will help you grow.
5. B. a security person – use the backdoor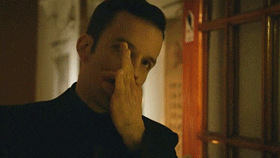 We live in a society where everyone is less than three clicks away, so my email address is available in my LinkedIn summary. If you message me with the Security job you're interested in, I'll always do my best to answer you.
…And that's a wrap!